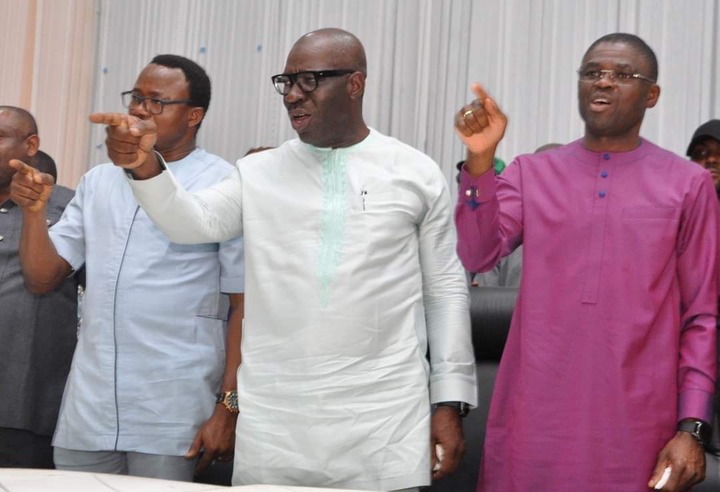 This is a sequel to our earlier update on Obaseki's humiliation by APC party leaders who rejected the governor's pleas for forgiveness and reconciliation.
The past one week saw Obaseki making frantic efforts in appeasing APC state leaders after allegedly been shut out permanently from PDP.
All entreaties made by Obaseki in placating the APC state leaders were confronted with resentments from the leaders.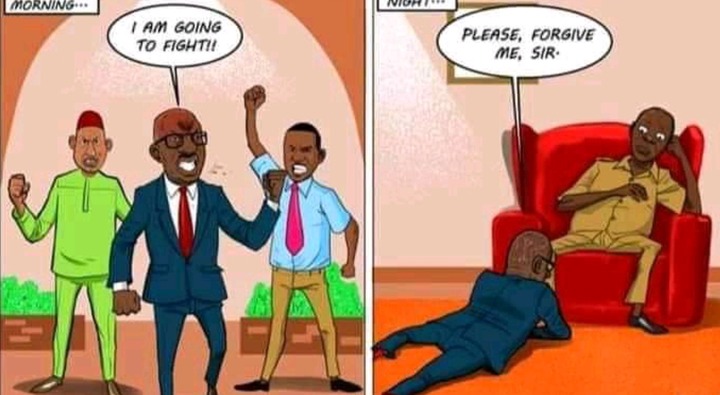 Government house was literally emptied as all key strategists inclusive of the SSG, Osarodion Ogie and Chief of Staff, Akerele were dispatched on a reconciliation drive.
The proponents of the peace moves allegedly convinced Obaseki to accept defeat in flying the party's ticket without Oshiomhole's endorsement.
This reality came into existence immediately after the National Executive Committee of APC in Abuja ratified Obaseki's suspension.
What this practically meant was Obaseki is no longer a member of APC.
Obaseki whose pride seems to always impede his networking reach decided to dash straight to Bola Tinubu to seek redress.
Read Also My mother is 70 and she insists we find a husband for her-Worried daughter
Tinubu who had earlier affirmed his support of Oshiomhole's leadership warned against anti-party activities while reiterating the need for party supremacy.
Tinubu was non-commital. Successive moves made by Obaseki to Oshiomhole using the state traditional council, the state CAN and some other bodies met a brick wall as he was even humbled in some instances.
Obaseki identified Ogiemwonyi as an obstacle and warned the APC of substituting him for Ogiemwonyi.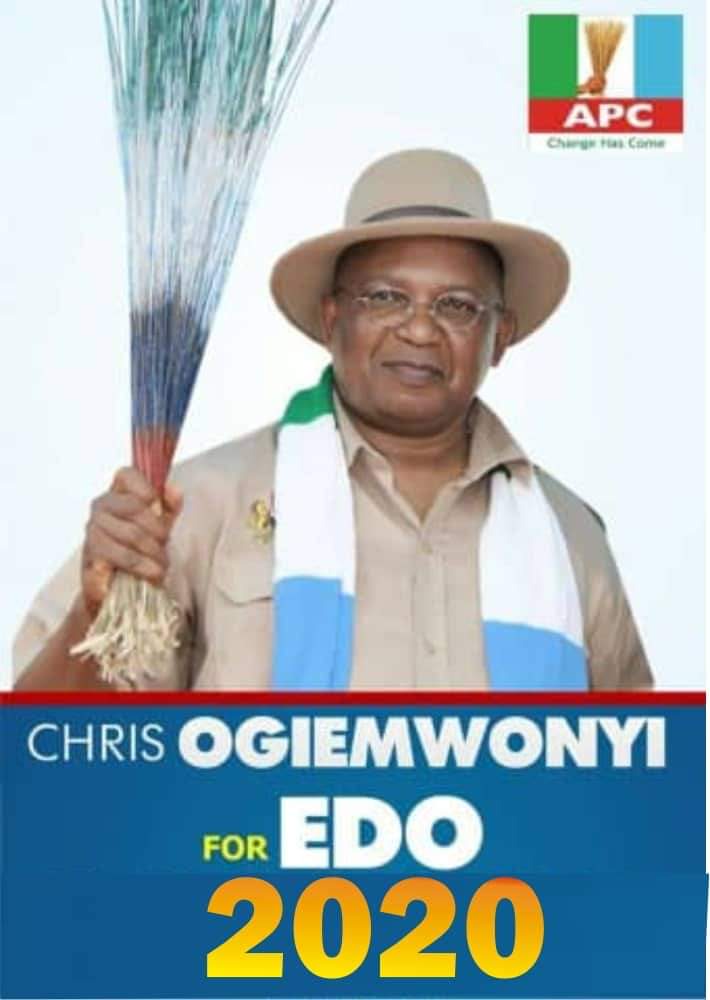 According to our sources, Obaseki claims Oshiomhole and the EPM leaders have settled for Chris Ogiemwonyi, their plans the governor alleged was to finalize for Ogiemwonyi whom the majority of party members see as a perfect administrator and a politician all rolled up in one.
Already the camp of Obaseki Shaibu Movement, OSM has been jittery with the recent development.
They allege the insistence of party leaders in not yielding to their pleas was as a result of the popularity of the former minister of works.
Meanwhile, supporters of Ogiemwonyi has applauded the suspension and humiliation of Obaseki.
They claim there is nothing like a hijack as all the governorship candidates in APC have the understanding to enter the primaries rancour-free.
Saying Ogiemwonyi's sterling qualities is his selling point. They claim Obaseki has trust issues and Philip Shaibu the deputy governor is the real man behind the iron mask.
'The claim that Ogiemwonyi has hijacked the state APC structure is complete hogwash, let me tell you, all the candidates of APC meet regularly and the party would go into the primaries with a united family.
We thank President Buhari and our National leader, Asiwaju Tinubu for insisting on party supremacy.
APC as a party has taken its stand and so shall it be. We are using this medium to thank those that chased out Obaseki from the party. Party supremacy is key, we stand with Oshiomhole'
That was how our contact was quoted as saying.
Edo election is sure to dominate the headlines as the build-up intensifies.
Do not forget to follow our channels for the latest update on political activities in the state as we fast approach the EDO 2020 elections.
Osigwe Omo-Ikirodah works at iReporteronline and writes in from Benin City.
Read Also I tested my husband with my best friend and now they are getting married -Housewife cries out
from iReporter Online https://ift.tt/3a0FoRj
via
IFTTT