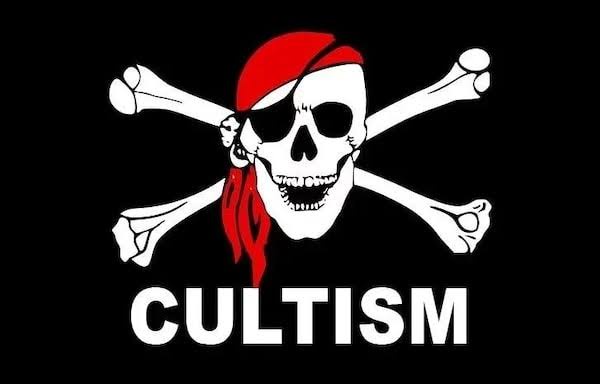 Secret Cult is an organized group of people who come together to pledge their allegiances under an oath and have a social bond of commitment and dedication for the good of the group. Members of secret cults carry out their meetings when people are not aware of, especially during the odd hours and far away from residence, mostly in the bush. They keep their activities secret from non -members and people in the society.
Shockingly, occupied the minds of the Nigerian youths nowadays is far more than development in ICT, technology, science or any area than to grow in violence and other anti-social activities. No doubt, this situation has increased violent gang activities in our higher institutions. Cultism found its way into the Nigerian higher institutions in 1952 at the University College, now University of Ibadan, when Nigeria's Nobel laureate, Professor Wole Soyinka and six others formed the ' Pyrates Confraternity' ( Sea Dogs). Then, their main objectives was to end tribalism and elitism, abolish convention, and also to restore the aged chivalry. The group was also founded to provide support for human rights and social justice.
Over the years, due to inability of intending members to meet required standards of the Pyrates confraternity, protestant ones started emerging like the Buccaneers, Mafia and Vickings while the early nineties also witnessed a boom as every institution was plagued with cult explosion such as the Supreme Eiye confraternity, Black Axe, Daughters of Jezebel, Black Eye, Black Beret, Black Bra, among others and their activities suggest nothing; but evil in the society.
Their activities involves frequent violent clash among different groups which always lead to death or end in casualties, constant abuse of drugs, armed robbery, sexual assault, vandalization,forceful intimidation of lecturers, harassment, bullying of fellow course mate, and assassination. Presently, cultism is known to be at its peak in tertiary institutions and it is no more news that it has also extended it territories to secondary and primary schools respectively. Despite the effort of the government and school authorities to eradicate this menace in the country proved abortive.
At this juncture, it is however, imperative to state that there are many ways a secret cult member can be identified and some of them are:-
Nickname
Most members of secret cults have names other than their true names. Investigations revealed that some of these names portray the role a member plays effectively, while others are named after some animals like birds, and African leaders. Alias or nicknames such as Capo, Hitler, Mobutu Sese Seko, Zorro, Scorpion, Fathermia, Vulture, Parrot, Ostrich are freely used.
Intake of hard drugs and alcohol
Members of secret cult groups delight in taking hard drugs like cocaine, marijuana, heroin and the newly introduced tramadol and codeine. They indulge in continuous consumption of alcohol and cigarettes.
Unusual longer sleeping hours during the day
Vast majority of cult members sleep heavily during the day as most of their activities are performed at night. This unusual habit of sleeping during the day can therefore be interpreted as a ploy to conserve their energy for their night exploits.
Violent behaviour
No doubt, cultists are violent and always use of force to achieve their aims. They fight, stab, maim and kill themselves when they clash with other cult groups over supremacy or when there is a division or leadership tussle.
Lack of interest in studies
Members of these cults in schools and higher institutions have no interest in their studies which is their primary assignment. This is simply because of their confidence that they must pass no matter what. Further checks also unearthed that some lecturers who belong to these groups or are their patrons assure members they must pass.
Involvement in native medicine and magic
All secret cult members involve themselves in oath taking during initiations. Sometimes, they use their blood and native medicine popularly known as 'juju'. The use of 'black magic' to fortified themselves is common to all of them.
Dressing habits
Certain dresses and colours are worn by different cult groups. Some prefer black, blue, yellow, black and white, or red colours. Strange drawings and logos are inscribed on some vests, caps or special regalia used. Some use black, blue or yellow berets to distinguish themselves with very dark goggles.
Night activities
Members prefer and find it easier to conduct their activities at night in secrecy.
Possession of dangerous weapons
All secret cult members have dangerous weapons such guns, including locally made pistols and sometimes imported sub machine guns, axe, cutlass, knife, hammer, and specially made iron rods. These weapons are always concealed until they are needed for operations.
Aims and objectives
Members of secret cult groups share the same aims and objectives which they vigorously pursue and strive to achieve
Slang and special language
Members of individual secret cult specifically develop and use slang, diction and language unique to each cult. Forgiveness is a sin, don't price when you cannot pay, blood for blood, an eye for an eye, the opener of eyes and mind, who no know go know, ahoy! A-waah, eparipa, sailing are some of the words freely used by members.
Friends
Friends of secret cult most often belong to a cult group. They are wild, unruly, uncontrollable, assertive and sometimes proud. They always look down on others who don't belong to their own cult and they feel superior.
Sudden change in mood and character
One of the visible characteristics of secret cult members is the sudden change in their mood and character. They could be joyful, boisterous and talkative in one breath and be extremely sullen, gloomy and moody in another breath. However, this could be linked to the various hard drugs and alcohol they take.
Piercing and strange marks on the body
Members of secret cults could be known through tattoos and marks he makes on his body. Some members pierce their ears, nose and other parts of their body and inscribed the signs of their cult group.
Unconsciousness
Unconsciousness, sometimes for hours or days , usually cold or hot body temperature, unusual bleeding or bruises and sores on veins , are all ways of identifying a cult members.
Operation in group
Secret cult operates in group. Some people prefer to refer to them as gang groups
Colour of eyes
Redness of eyes of members who smoke hard drugs like marijuana is very common. Other hard drugs make the the face of members puffy. Enlargement of the pupils of the eyes are direct effects of cocaine, heroin and other hard drugs.
Signs and gestures
A member of a secret cult can be known through the particular gesture he makes. The joining of both thumps, thump down or up sign, using a finger to make the zero sign and body and eye signs.
Recklessness
Members are always rash, irrational and reckless. They always lack caution and do not think of what the consequences of their actions might. They equate this recklessness with boldness and unusual courage
Incoherent speech
Many members talk incoherently. Talking to oneself, staggering, unco-ordinated steps, twitching of the muscles and body tremor as a result of taking hard drugs could make one easily identify a cultist.
from iReporter Online https://ift.tt/2P2G9jh
via
IFTTT