Tragedy have befallen a community in Abia State, Nigeria after a newly wedded wife was alleged to have stabbed her husband to death in his sleep after a minor misunderstanding they had in the afternoon.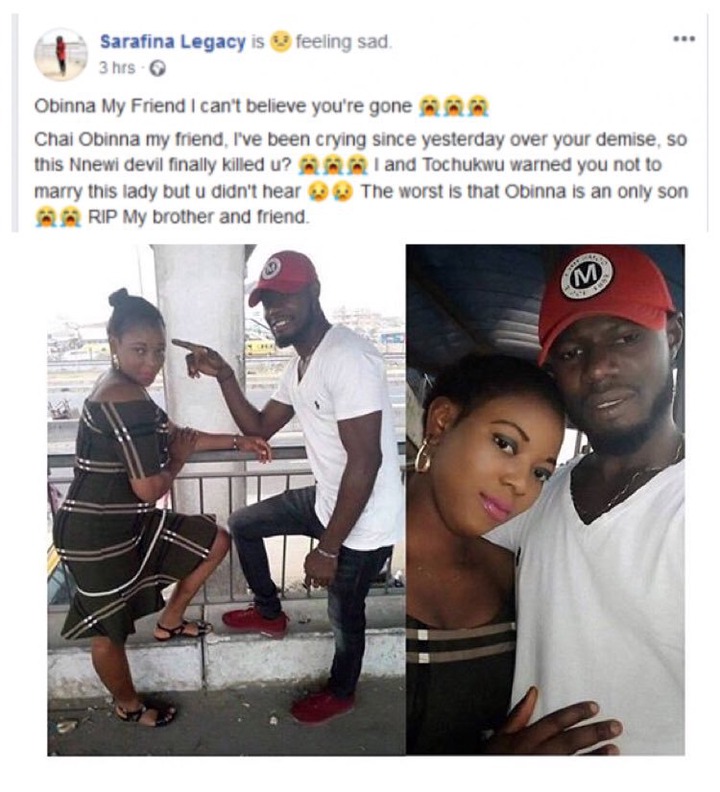 The couple who just had a traditional wedding last year and were blessed with a baby girl had a minor qurrel over undisclosed issue but instead of settling, the suspect took upon herself to killed the deceased at around 1am on Monday with multiple cuts in his chest.
The suspect was apprehended and handed over to the Nigeria police while trying to escape after committing the act.
Friends of the deceased who took to social media to share the sad incident described the deceased as gentle and was only returning from football game a day before he was killed.
"Obinna My Friend I can't believe you're gone



Chai Obinna my friend, I've been crying since yesterday over your demise, so this Nnewi devil finally killed u?



I and Tochukwu warned you not to marry this lady but u didn't hear


The worst is that Obinna is an only son


RIP My brother and friend." one of friend of the deceased posted on Facebook.
from iReporter Online https://ift.tt/2YeeTCr
via
IFTTT