An Edo based youth group, Edo Concerned Youths for Good Governance (ECYGG) led by Comrade Wilson Okunduwa on Friday endorsed the aspiration of Engineer Chris Ogiemwonyi as Governor Edo State.
The group singled out Ogiemwonyi amongst all other aspirants for his forthrightness and ability to reward labour.
The group made this known in an open letter sent to APC national chairman, Adams Oshiomhole and made available to iReporteronline.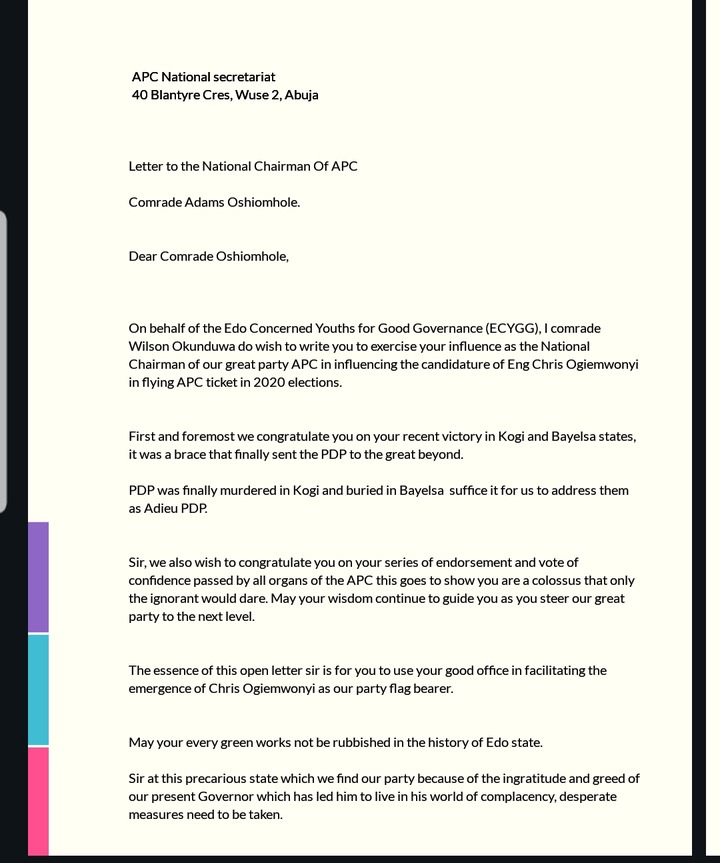 *See copy of letter.
In the letter, they extolled the leadership quality of Oshiomhole and congratulated him on his recent series of endorsement.
They said the coming of Adams Oshiomhole as seen to the demise of PDP.
PDP was murdered in Kogi and buried in Bayelsa, that was how they humorously described PDP in the letter.
See full details of the letter as made available to iReporteronline.
Letter to the National Chairman Of APC
Comrade Adams Oshiomhole.
Dear Comrade Oshiomhole,
On behalf of the Edo Concerned Youths for Good Governance (ECYGG), I comrade Wilson Okunduwa do wish to write you to exercise your influence as the National Chairman of our great party, APC in influencing the candidature of Eng Chris Ogiemwonyi in flying APC ticket in 2020 elections.
First and foremost we congratulate you on your recent victory in Kogi and Bayelsa states, it was a brace that finally sent the PDP to the great beyond.
PDP was finally murdered in Kogi and buried in Bayelsa suffice it for us to address them as Adieu PDP.
Sir, we also wish to congratulate you on your series of endorsement and vote of confidence passed by all organs of the APC , this goes to show you are a colossus that only the ignorant would dare. May your wisdom continue to guide you as you steer our great party to the next level.
The essence of this open letter sir is for you to use your good office in facilitating the emergence of Chris Ogiemwonyi as our party flag bearer.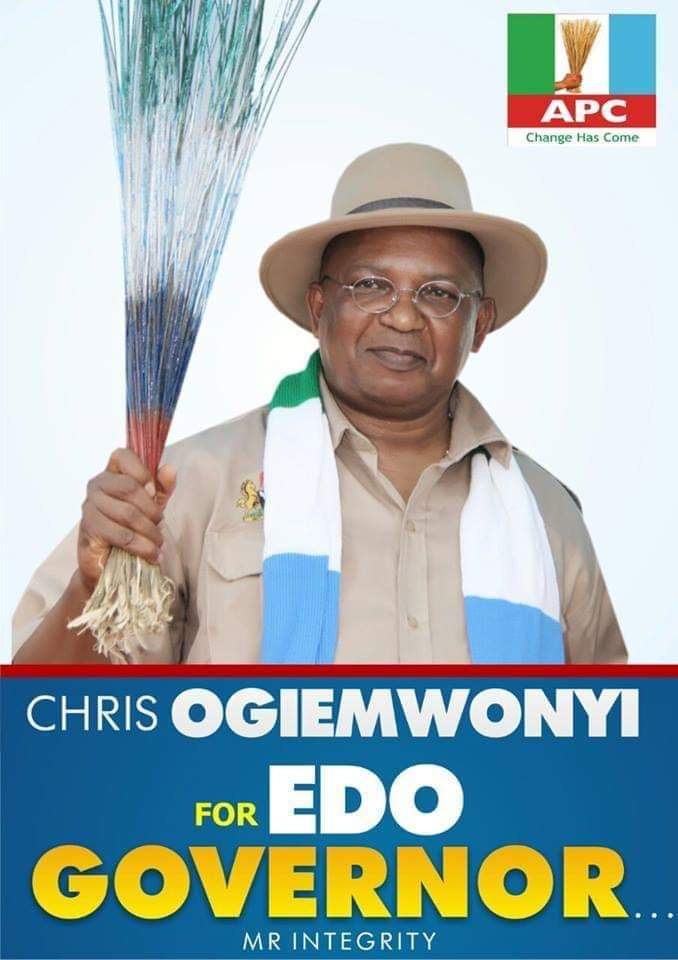 May your every green works not be rubbished in the history of Edo state.
Sir at this precarious state which we find our party because of the ingratitude and greed of our present Governor which has led him to live in his world of complacency, desperate measures need to be taken.
Sir, now is the time for you to make sure Edo state has a reasonable governor that would continue on your laudable accomplishments. It is so sad that if a deliberate action is not taken or a similar candidate anointed then your legacies would be eroded in the next four years. God forbid such a thing happens.
Looking at the vision you had for the state when you gave us the Central Hospital, embarked on a stormwater project even beautified our state, made ring road looked like Japan and so many that can not be mentioned here due availability of space.
Sir, you need a party man that would reward hard work, the wages of labour should be renumerated for a sacrifice carried out. As a former labour leader sir, you very well know what we mean.
Sir, you need a party man that would continue your legacies.
Sir, you need a party man that can unite all the other governorship aspirants and one who is not shrouded in controversies.
Sir, you need a party man that is a tested administrator, a good manager of human resources, a party man that has the compassion of party members.
Sir, you need a party man that will not be into the blame game, the last three years have seen Edo in retrogression we need a Governor that is not sleeping on the work.
Sir we can mention from now till 2020 still yet the list is endless, Edo is fast retrogressing with the streets dirty and smelling, cultist rearing their ugly heads, a total dearth of nightlife and so many others.
I wish you continue your good works in the party while I urge you to as National Chairman please return Ogiewmwonyi as unopposed by the virtue of your power.
Thanks in anticipation of a favourable response
Yours sincerely
Wilson Okunduwa
Edo Concerned Youths for Good Governance (ECYGG)
This is a developing story more details to follow.
Osigwe Omo-Ikirodah works at iReporteronline.
Follow all our social media handles for behind the scene activities on Edo 2020 elections.
Let's hear your comments what do you think ?