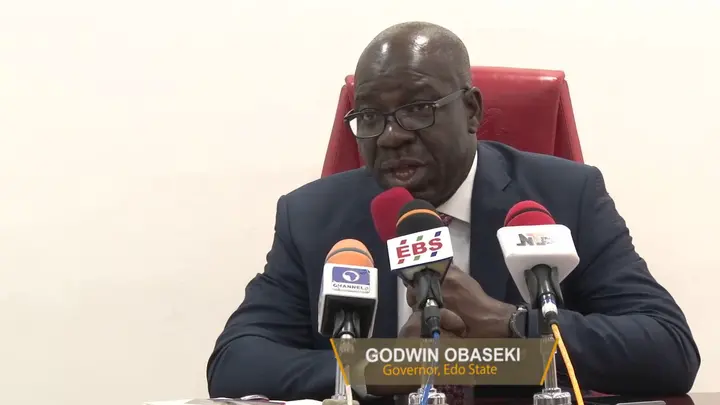 In view of the crisis rocking Edo State chapter of the ruling All Progressives Congress (APC), Governor Godwin Obaseki of Edo State rejected the five-man fact-finding committee set up by the National Working Committee (NWC).
Speaking on why the governor rejected the fact-finding committee, an associate of Obaseki described the committee as "kangaroo", saying they are not interested in the work of the Ganduje committee as it was set up by the APC NWC which is a one-man show under the dictate of Oshiomhole.
He, however, revealed that the governor is in total support of President Muhammadu Buhari's constitution of a National Reconciliation Committee for the APC that will address grievances and conflicts amongst party members.
"The governor is not interested in the kangaroo committee set up by the NWC. Today, only Oshiomhole is taking personal decision which he will now ascribe to the NWC.
"Bolaji Abdullahi, the party's former National Publicity Secretary alluded to that in a recent interview and other members of the NWC who have also cried out over Oshiomhole's dictatorial tendencies have been suspended".
I reporter recalls that the committee was set up by the leadership of the party to look into the rift between the governor and his predecessor, Adams Oshiomhole, who is also the national chairman of the party.
The battle for supremacy between the two men has polarised supporters of the party in the state, a development many believe may affect the party's chances in the governorship election taking place next year.
from iReporter Online https://ift.tt/2rrMBs7
via
IFTTT