Edo is a great state blessed with a vibrant political class as well as much informed electorate.
In as much as the state is witnessing much drama ahead of its governorship elections next year, there is still a standard of measurement the electorates hold in accessing political aspirants for the office of the governor.
The peculiar nature of Edo politics is quite stunning, over the years the state has witnessed professionals, professors, business tycoons and other accomplished personalities as Governor.
So next year's election would not be different as highly outstanding personalities have already indicated interest in seeking to fly the ticket of APC which is the predominant and ruling party in the state.
Of recent political activities of a frontline aspirant, Engineer Chris Ogiemwonyi seems to have caught the interest of the state electorate and they have reacted towards his aspiration.
In commitment to our earlier pledge of bringing you the behind the scene moves currently playing out in the state, we have carried out a simple survey from the three senatorial districts of the state to sample views on the emergence of Engineer Chris Ogiemwonyi as a favourite in the race.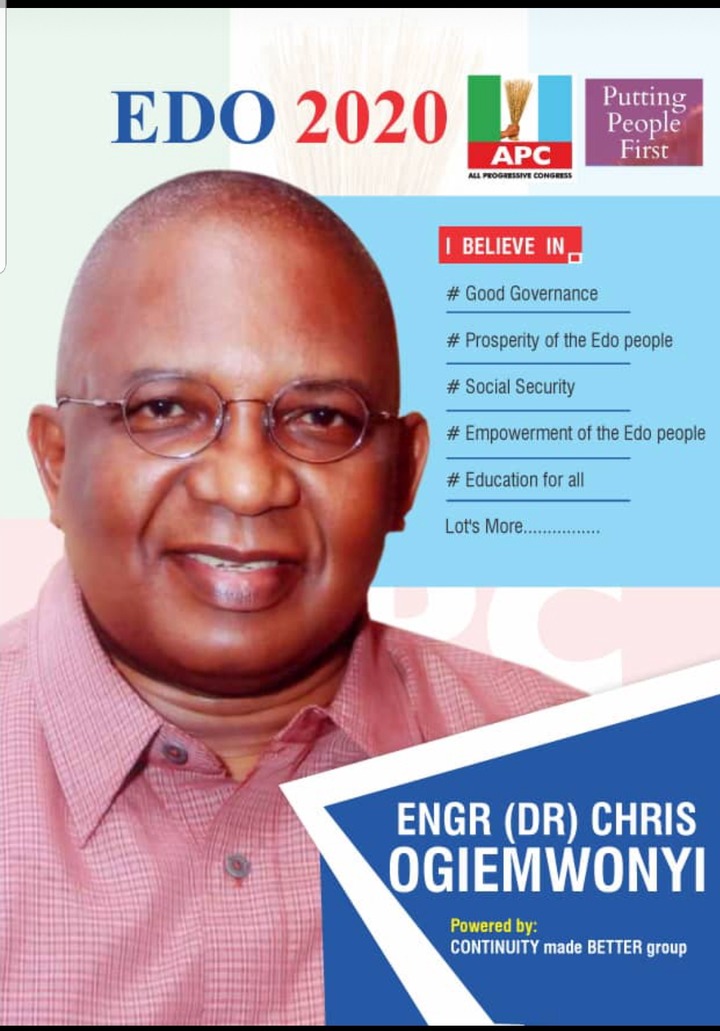 Our first significance port of call was Orhionmwon LGA, the birthplace of Chris Ogiemwonyi which is in Edo South.
Getting to the first spot at Igbanke a community comprising of nine villages we decided to engage some youths at a football viewing centre.
Surprisingly the young men all knew Ogiemwonyi is a contestant and they spoke sparkling words about him.
A particular youth by name Godwin Idemudia said Ogiemwonyi was a blessing to the people of Orhionmwon community and they have always benefited from his benevolence.
"When Ogiemwonyi was fully active in NNPC he created employment for us and encouraged our people to embrace education by setting up many schemes that we benefitted from.
I am from Obiogba community, Ogiemwonyi has reached us in so many ways I can not mention, just keep going round and ask the people they will tell you, all we can say is the man is a good man and should be given the chance by Edo people to serve.
If it was our power for we at Orhionmwon alone to elect him as governor then consider it done, he took us as a family and we have no choice than to reciprocate and support him" that was how he simply answered our enquires.
At Edo North opinion poll gathered was not much different with many saying the experience .Ogiemwonyi has in the oil and gas sector could be leveraged upon if elected as governor to the betterment of the state.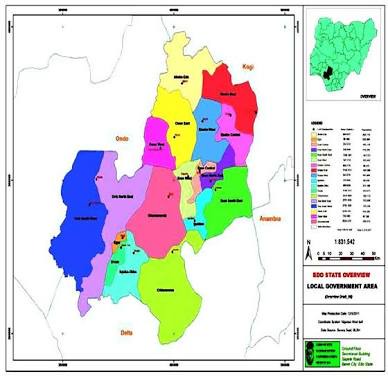 Asked if Ogiemwonyi was politically viable a respondent queried who were the opponents that are more credible than him? Livid with anger he challenged the opponents of Ogiemwonyi to bring out their manifestos so a proper comparison can be made.
Edo elections are not all about who is who politically it is about who has the capacity to govern well, it is about who can take Edo to the promised land, I see Chris Ogiemwonyi as eminently qualified to steer the state and he should be given a trial.
Edo deserves better and Chris seems to be the man with the right prerequisite to led the state to the next level" that was how Felix Idahosa simply put it.
At Edo central, there was a little bit of apathy and mixed feelings over Chris Ogiemwonyi's candidature, majority respondents said they were bothered about an Esan agenda and are working towards it.
Some lecturers at Ambrose Alli University Ekpoma express their mixed feelings if Ogiemwonyi would be given the ticket saying they have lost hope in Nigerian political parties, a senior lecturer who craved for anonymity retorted " if you ask me I would say Edo state at this time needs a governor who is sympathetic, ready to serve, has a strong character, competent, sincere, transparent, a clear vision for the state and above all a man of integrity.
To me oh I see Chris Ogiemwonyi heads and shoulders above the rest aspirants.
Our sample was taken from a wide range of people, comprising of market women, students, lecturers, civil servants and others.
Ogiemwonyi seems to be on the ground and has good followership across the state.
Follow all our social media handles for a daily update on political activities centred on Edo 2O20 election.
Osigwe Omo-Ikirodah is the editor in chief iReporterline writes in from Benin City
from iReporter Online https://ift.tt/2ORDmta
via
IFTTT